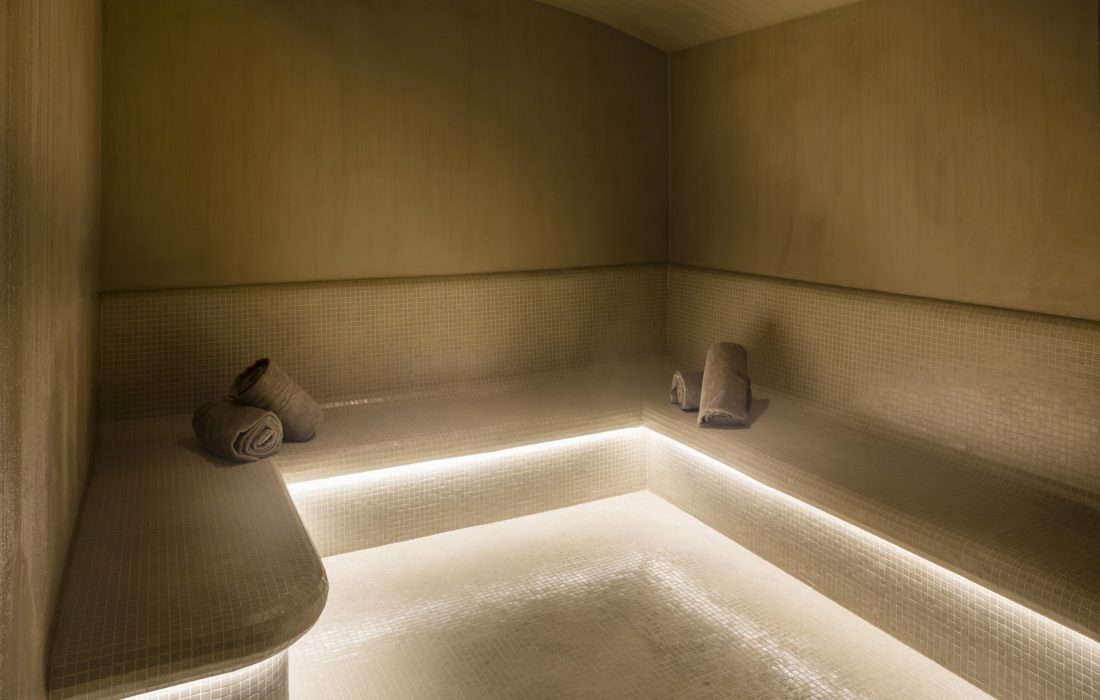 Se délasser dans un bain à vapeur, rêver et prendre du temps seul, en couple ou avec des amis chez vous.
L'étude de votre besoin, la conception de votre hammam, la production en mousse dure de polystyrène à l'usine partenaire Lux Elements, la livraison, l'installation par nos professionnels et le revêtement en mosaïque de verre ou carrelage selon votre goût sont des étapes clef de réussite que Hydrolux France assure.
La technologie franco-allemande combinée avec les idées de décoration française rend votre hammam sûr et unique.
Notre riche expérience dans le domaine du bien-être vous permet de choisir parmi les structures standard ou sur mesure.
Un toit arrondi ou en pente, impossible de le construire en béton ? Pas impossible pour nos constructions.
Une banquette droite avec dossier et l'intégration des lumières ou une partie en siège couché ?
Style marocain ou plutôt zen ou pourquoi pas futuriste ? Les façons de décorer votre hammam sont illimitées avec nos différentes gammes de pâte de verre. Nous vous proposons même une personnalisation exclusive avec un décor en mosaïque grâce à notre savoir faire exceptionnel.
Relax in a steam room, dream and take time alone, as a couple or with friends at home.
The study of your needs, the design of your steam room, the production of polystyrene hard foam at the Lux Elements partner factory, the delivery, the installation by our professionals and the covering with our glass mosaic or ceramic tiles according to your taste are key stages of success which Hydrolux France ensures.
Franco-German technology combined with French decorative ideas makes your hammam safe and unique.
Our rich experience in the field of wellness allows you to choose from standard or customized structures.
A rounded or sloping roof, impossible to build it in concrete? Not impossible for our constructions.
A straight seat with backrest and integration of lights or a part in a reclining seat?
Moroccan style or rather Zen or why not futuristic? The ways to decorate your hammam are unlimited with our different ranges of glass paste. We even propose an exclusive customization with a mosaic design thanks to our exceptional know-how.
Entspannen Sie sich im Dampfbad, träumen Sie und nehmen Sie sich Zeit für sich, alleine, zu zweit oder mit Freunden zu Hause.
Die Analyse Ihrer Bedürfnisse, die Gestaltung Ihres Dampfbades, die Herstellung von Polystyrol-Hartschaum im Lux Elements-Partnerwerk, die Lieferung, die Montage durch unsere Fachleute und die Verkleidung mit unserem Glasmosaik oder mit keramischen Fliesen nach Ihrem Geschmack sind Schlüsselfaktoren des Erfolgs, die Hydrolux France sichert.
Deutsch-französische Technologie kombiniert mit französischen Dekorationsideen machen Ihren Hammam sicher und einzigartig.
Unsere langjährige Erfahrung im Wellnessbereich ermöglicht es Ihnen, zwischen Standard- und kundenspezifischen Strukturen zu wählen.
Ein rundes oder schräges Dach, unmöglich in Beton einzubauen? Für unsere Strukturen nicht unmöglich.
Ein gerader Sitz mit Rückenlehne und Integration von Lichtern oder ein Abschnitt mit einem Liegesitz?
Marokkanischer Stil oder eher Zen oder warum nicht futuristisch? Die Möglichkeiten, Ihren Hammam zu dekorieren, sind mit unseren verschiedenen Glaspastenserien unbegrenzt. Dank unseres außergewöhnlichen Know-hows bieten wir Ihnen sogar ein exklusives Mosaikdekor an.