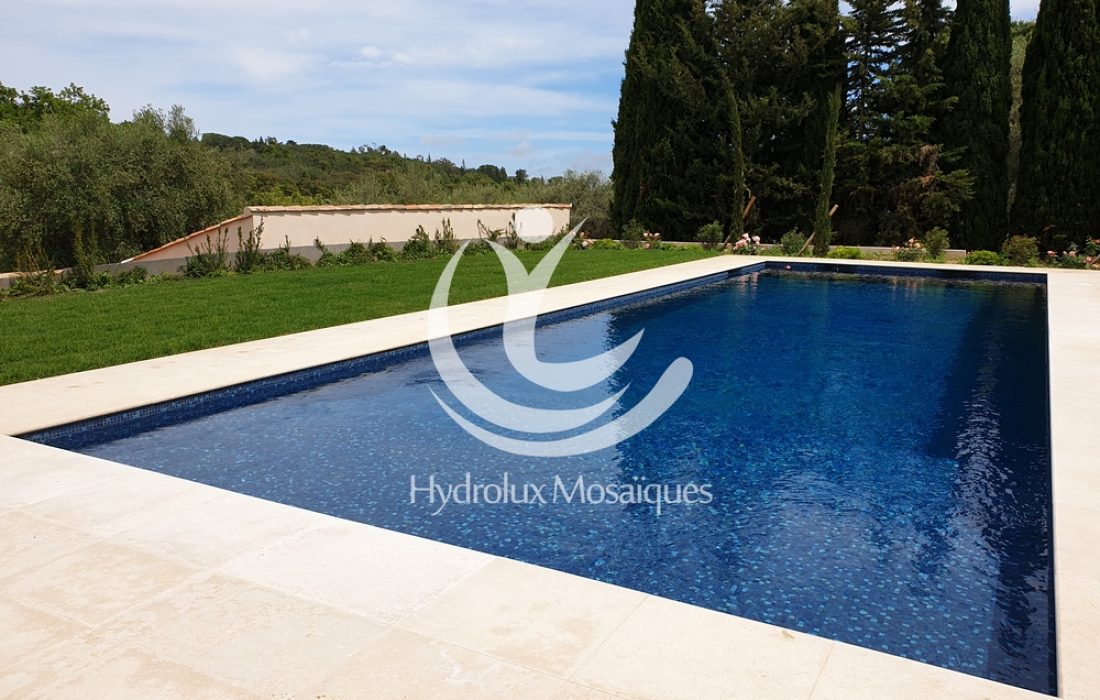 Avec des centaines de piscine en mosaïque de verre réalisées par an dans le monde, le groupe Hydrolux France, anciennement Ô Concept Mosaïques, est le leader sur ce marché.
Une mosaïque bleue ou verte n'est pas la seule solution pour obtenir ces couleurs d'eau. Laissez-vous surprendre.
Hydrolux mosaïques et ses distributeurs analysent votre projet avec vous, déterminent votre couleur d'eau en piscine et vous proposent une sélection parmi le large choix de créations de mosaïque standard le mélange ou la couleur unie en différentes qualités de pâte de verre pour tous les budgets.
Grâce à notre riche expérience de plus de 20 ans, Hydrolux France créé également votre mélange spécial de mosaïque piscine en vous conseillant en harmonie avec votre jardin, la vue et l'environnement de son implantation.
Avec un stock permanent de 13000 m2 dans notre entrepôt à Grasse, France, vous sera livré rapidement.
Un décor personnalisé sur la plage de votre piscine, une fantaisie, un dégradé ou une frise Hydrolux France réalise tous les décors de tous les styles.
Nous assurons, bien évidemment, l'étude et la réalisation de piscines exceptionnelles de grand luxe avec notre mosaïque OR 24 carats, des carreaux haut de gamme exclusifs et aussi des pâtes de verre spécialement produites pour des projets d'envergure internationale comme la mosaïque avec effet 3D pour tous les bassins de La Grande Mosquée d'Alger.
With hundreds of glass mosaic pools realized each year around the world, the Hydrolux France group, formerly known as Ô Concept Mosaïques, is the leader in this market.
A mosaic blue or green is not the only solution to obtain these colours of water. Let yourself be surprised.
Hydrolux mosaics and its distributors analyze your project with you, determine your water colour in the pool and offer you a selection of mixes or uni colours from the wide choice of standard mosaic creations in different sorts of glass paste for all budgets.
Thanks to our rich experience of more than 20 years, Hydrolux France creates also your special glass mosaic pool mix in harmony with your garden, the view and the environment of its site.
With a permanent stock of 13000 m2 of glass mosaic tiles in our warehouse in Grasse, France, you will be delivered quickly.
A personalized design on the beach of your swimming pool, a fantasy, a graduated blend or a border Hydrolux France realizes all the decorations of all the styles.
We ensure, of course, the study and the realization of exceptional swimming pools of great luxury with our gold mosaic 24 carats, exclusive high-end tiles and also glass
paste especially produced for international projects like the mosaic with 3D effect for all basins of the Great Mosque of Algiers.
Mit Hunderten von Glasmosaikpools, die jedes Jahr auf der ganzen Welt realisiert werden, ist die Hydrolux France Gruppe, die früher als Ô Concept Mosaïques bekannt war, führend auf diesem Markt. 
Ein Mosaik in Blau oder Grün ist nicht die einzige Lösung, um diese Farben des Wassers im Schwimmbad zu erhalten. Lassen Sie sich überraschen.
Hydrolux Mosaik und seine Händler analysieren mit Ihnen gemeinsam Ihr Projekt, bestimmen Ihre Poolfarbe und bieten Ihnen eine Auswahl aus der großen Anzahl an Standardmosaik-Kreationen an, die für jedes Budget gemischt oder einfarbig in verschiedenen Glaspasten angeboten werden.
Dank unserer mehr als 20-jährigen Erfahrung kreiert Hydrolux France auch Ihre spezielle Mosaik-Pool-Mischung, indem wir sie in Harmonie mit Ihrem Garten, der Aussicht und der Umgebung seines Standortes beraten.
Mit einem permanenten Lager von 13000 m2 Glasmosaik in unserem Lagerhaus in Grasse, Frankreich, werden Sie schnell beliefert.
Ein spezielles Design auf dem Strandbereich Ihres Schwimmbades, eine Phantasie, ein Farbverlauf oder eine Bordüre Hydrolux France verwirklicht alle Dekorationen jeglicher Stile.
Die Studie und Realisierung außergewöhnlicher, luxuriöser Schwimmbäder gewährleisten wir selbstverständlich auch mit unserem Goldmosaik aus 24 Karat, exklusiven Spitzenklasse-Fliesen und mit speziell angefertigter Glaspaste, die für internationale Projekte hergestellt werden wie das Glasmosaik mit 3D-Effekt für alle Becken der Großen Moschee von Algier.