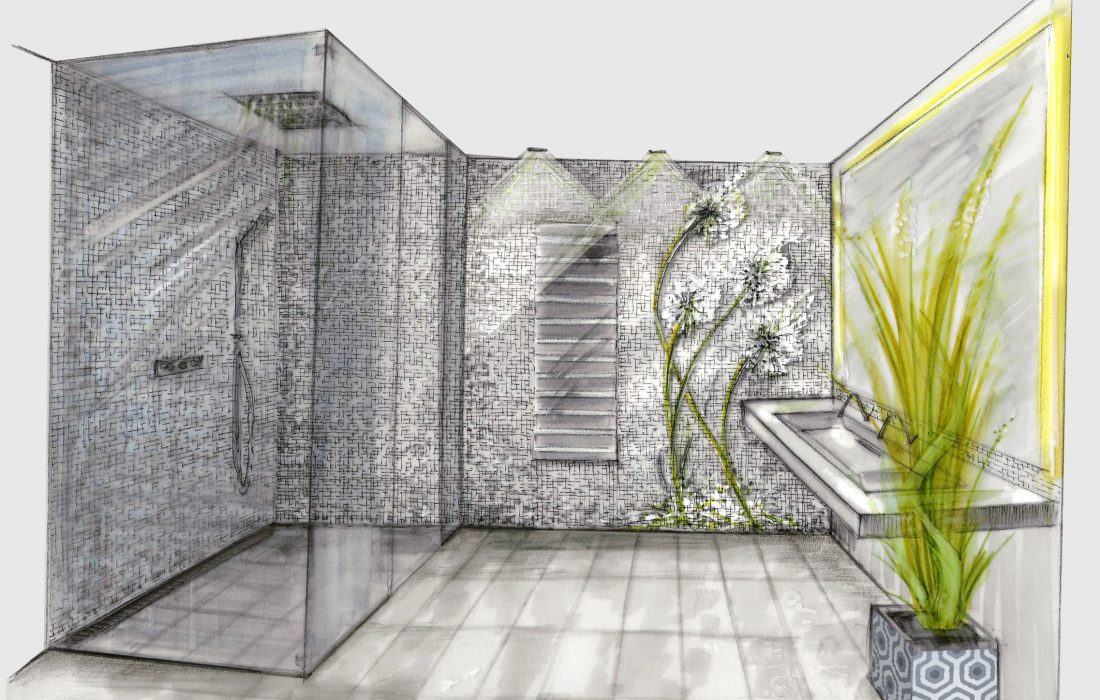 Votre home spa ou bien votre spa privé commence par votre douche. Remplacez votre ancienne baignoire par une douche à l'italienne décoré d'un mur en mosaïque, un effet de lumière, de son qui vous laisse imaginer une forêt tropicale ? Tout est possible, découvrez plus dans la catégorie douche.

Bien évidemment, vous pouvez ajouter à votre espace bien être tous les équipements désirés : bain à bulles, à vapeur ou bien sauna. Notre sélection de structure et d'appareils haut de gamme de technologie allemande se marie parfaitement avec notre décoration française.
Notre riche expérience dans le design avec la mosaïque de verre nous permet de vous conseiller également dans votre choix de carrelage, de pierres naturelles ou bien de carreaux ciment qui compléteront votre spa privé. Nous vous proposons une sélection de produits de tendance en harmonie avec nos créations de mosaïque de verre.
Your home spa or also called private spa starts with your shower. Replace your old bathtub with a walk-in shower decorated with a mosaic wall, an effect of light and sound, which lets you imagine a rainforest? Everything is possible, find out more in the shower category.

Of course, you can add to your wellness area all desired equipment: bubble bath, steam room or sauna. Our selection of top-of-the-range equipment with German technology blends perfectly with our French design.
Our rich experience in glass mosaic design allows us to advise you in your choice of tiling, natural stone or cement tiles, which will complement your private spa. We offer a selection of trend products in harmony with our glass mosaic creations.
Ihr Home Spa, oder auch Privatspa genannt, beginnt mit Ihrer Dusche. Ersetzen Sie Ihre alte Badewanne durch eine bodengleiche Dusche mit einer Mosaikwand, ein Effekt von Licht und Geräuschen, der Sie sich einen Regenwald vorstellen lässt? Alles ist möglich, erfahren Sie mehr in der Kategorie Dusche.

Natürlich können Sie Ihrem Wellnessraum auch alle gewünschten Ausstattungen und Geräte hinzufügen: Sprudelbad, Dampfbad oder Sauna. Unsere Auswahl an deutscher Spitzentechnologie paßt perfekt zu unserem französischen Design.
Unsere langjährige Erfahrung in der Gestaltung von Glasmosaiken ermöglicht es uns, Sie bei der Auswahl von Fliesen, Natursteine oder Zementfliesen zu beraten, die Ihr Home Spa ergänzen. Passend zu unseren Glasmosaikkreationen bieten wir eine Auswahl an Trendprodukten an.